Where should I fly into Tanzania?
The three international airports in Tanzania are in Dar es Salaam, Arusha and Zanzibar. There are many other airports, as well as airstrips, that one can use for travel within Tanzania.
Julius Nyerere International Airport (DAR) in Dar es Salaam
This airport is on the east coast. It's the biggest airport and you may need to fly here and then catch a connection to one of the smaller ones. This airport makes the most sense if you're heading to west, central or southern Tanzania.
Kilimanjaro International Airport (JRO) near Arusha
JRO is just outside of Arusha, the main city of northern Tanzania. This is the ideal airport if you're heading on a Northern Circuit safari or a Kilimanjaro climb. As you can see in the map below, it's very close to Moshi, the closest town to Kilimanjaro National Park.
JRO is also the closest major airport to the large game reserves of the north like Serengeti National Park. That said, Tanzania is a big country and it will take a day to drive from JRO to the Serengeti, for instance, especially as much of the drive is on dirt roads that require four-wheel drive. You might like to consider flying to one of the various airstrips across northern Tanzania to reduce travel times.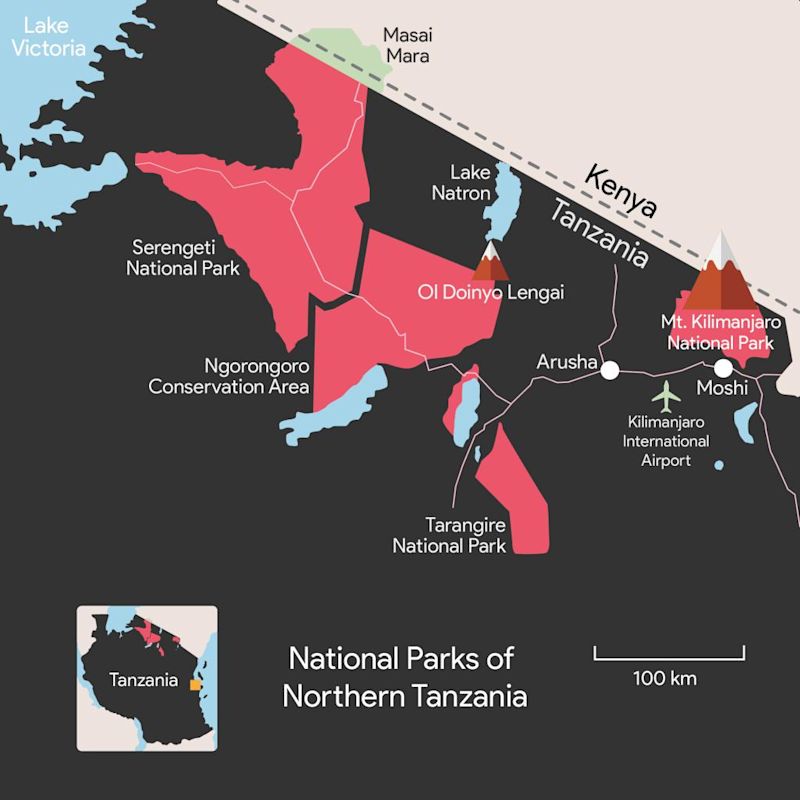 Map of northern Tanzania showing the location of Kilimanjaro International Airport
Zanzibar Abeid Amani Karume Airport (ZNZ) in Zanzibar
If you're heading to the Zanzibar archipelago, then you want to fly into ZNZ on Unguja Island. If you're heading to Zanzibar from elsewhere in Tanzania, then you could also use Pemba Airport (PMA) depending on your planned itinerary.
Zanzibar is famous for its beautiful, warm-water beaches, unique cultural history, beautiful game parks and wildlife, and water sports. We find that many like to fly there from Kilimanjaro International Airport after having completed a Kili climb in order to relax and unwind after their epic trek.
Fly into Kenya and drive south
Note that you could also choose to fly into Jomo Kenyatta International Airport (NBO) in Nairobi, Kenya, and then drive southwards for 800 km to reach the Tanzania border. This works well for those wanting to visit both Kenya and Tanzania.
Note that if you're going to visit more than one nation in the region, you'll probably want to obtain an East African visa over just a Tanzanian visa.